Just so you know, those kids who went to New Orleans and Spring Break Florida the last 3 weeks are returning home, so these adjacent Southern States are just now beginning to approach the launch into exponential growth.
My growth model has the rate of increase in Mississippi as 27.23%, which means it is doubling every 2.87 days. My model also has the total number of cases within 2 weeks as 49,500, at least 10% of whom will need to be hospitalized. That is 4,950 people. How many total hospital beds (and workers) does Mississippi have again? (see yesterday's post -- scroll down).
[SOURCE: The Covid Tracking Project | ]

So what should a good ole boy Republican Governor of Mississippi Tate Reeves do? Rescind local orders across the state from social distancing and non-essential business restrictions.

The order overrode several public-health measures that local authorities had called for. It said that "any order, rule, regulation or action by any governing body, agency or political subdivision of the state that imposes any additional freedom of movement or social distancing limitations on Essential Business or Operation, restricts scope of services or hours of operation of any Essential Business or Operation, or which will or might in any way conflict with or impede the purpose of this Executive Order is suspended and unenforceable during this COVID-19 State of Emergency."
Yummy. Because .... Mississippi is not China.
Click here for a 7 minute MSNBC segment with Tupelo, Mississippi Mayor Jason Shelton -- who btw is a Second Cousin of mine.
Because posturing and tossing out cute jingoistic phrases shows ... Leadership ???
Here is Florida's growth model.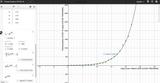 Notice that both Florida and Mississippi have large a values. Mississippi is 11.16 and Florida is 8.16. You compare the a value with whatever the dataset's initial value is when x = 0, which for Mississippi is 1 and Florida is 2. Hence 1 out 11.16 and 2 out of 8.16. That means only 24.4% of cases in Florida and 8.9% of cases in Mississippi have been statistically identified by the model. Florida also has an b value of .256855, or 25.68% rate of increase, doubling every 3.03 days.
Be glad you live in California, where public officials listen to science and experts of public health. We have a growth rate of 21% right now, doubling every 3.63 days, however that a value of of 36.9 is not measured against an initial value (when x = 0) of 1 but 43. 36.9 is less than 43, not more, so its 43 out of 36.9, greater than 100%. This implies a 9.3% decrease in the trend ( 1 minus 36.9/43). The model indicates that the state policy of Tracking and testing with "shelter in place" enforcement is having an beneficial effect.
---