Monday, 12 July 2021 at

19h 38m 23s
Advice from Blaise Pascal
When we wish to correct with advantage, and to show another that he errs, we must notice from what side he views the matter, for on that side it is usually true, and admit that truth to him, but reveal to him the side on which it is false. He is satisfied with that, for he sees that he was not mistaken, and that he only failed to see all sides. Now, no one is offended at not seeing everything; but one does not like to be mistaken, and that perhaps arises from the fact that man naturally cannot see everything, and that naturally he cannot err in the side he looks at, since the perceptions of our senses are always true.


People are generally better persuaded by the reasons which they have themselves discovered than by those which have come into the mind of others.
---
Friday, 2 July 2021 at

20h 53m 41s
But some people like to dream when they sleep
Ladies and Gentlemen, I present to you Matthew Cooke.
---
Monday, 21 June 2021 at

20h 20m 7s
Shooting from the hip
And telling the truth.
Private equity firms are buying huge swaths of houses and apartment complexes, then jacking the rents.
---
Friday, 14 May 2021 at

0h 33m 25s
No Shame No Integrity
Randi Rhodes is a national treasure. Air Force veteran of the United States.
Stop voting for Republicans.
---
Saturday, 8 May 2021 at

0h 4m 38s
1501 posts
1501 posts.
I've been blogging since 2001. I have my moments where I am prolific, and moments when I check out.
I know that 1501 is not 2000, but 500 posts will happen at some point.
Will that be this year, or 2 years from now? More difficult truths have been analyzed by the best minds indeed.
:-)
---
Saturday, 8 May 2021 at

0h 2m 12s
Lies versus Truth
Bryan Tyler Cohen is a gem. Here he shows us how the Right wing media is all about creating nuanced controversy. Btw Biden's press secretary Jen Psaki is the fucking bomb. Girl don't take no shit, and casually makes your stupid bullshit look like stupid bullshit.
You go girl.
---
Saturday, 1 May 2021 at

1h 38m 25s
Yep it was/is that bad
---
Friday, 23 April 2021 at

22h 34m 45s
American Exceptionalism
The US corporate tax rate as a percentage of GDP is the lowest of all top 37 OECD nations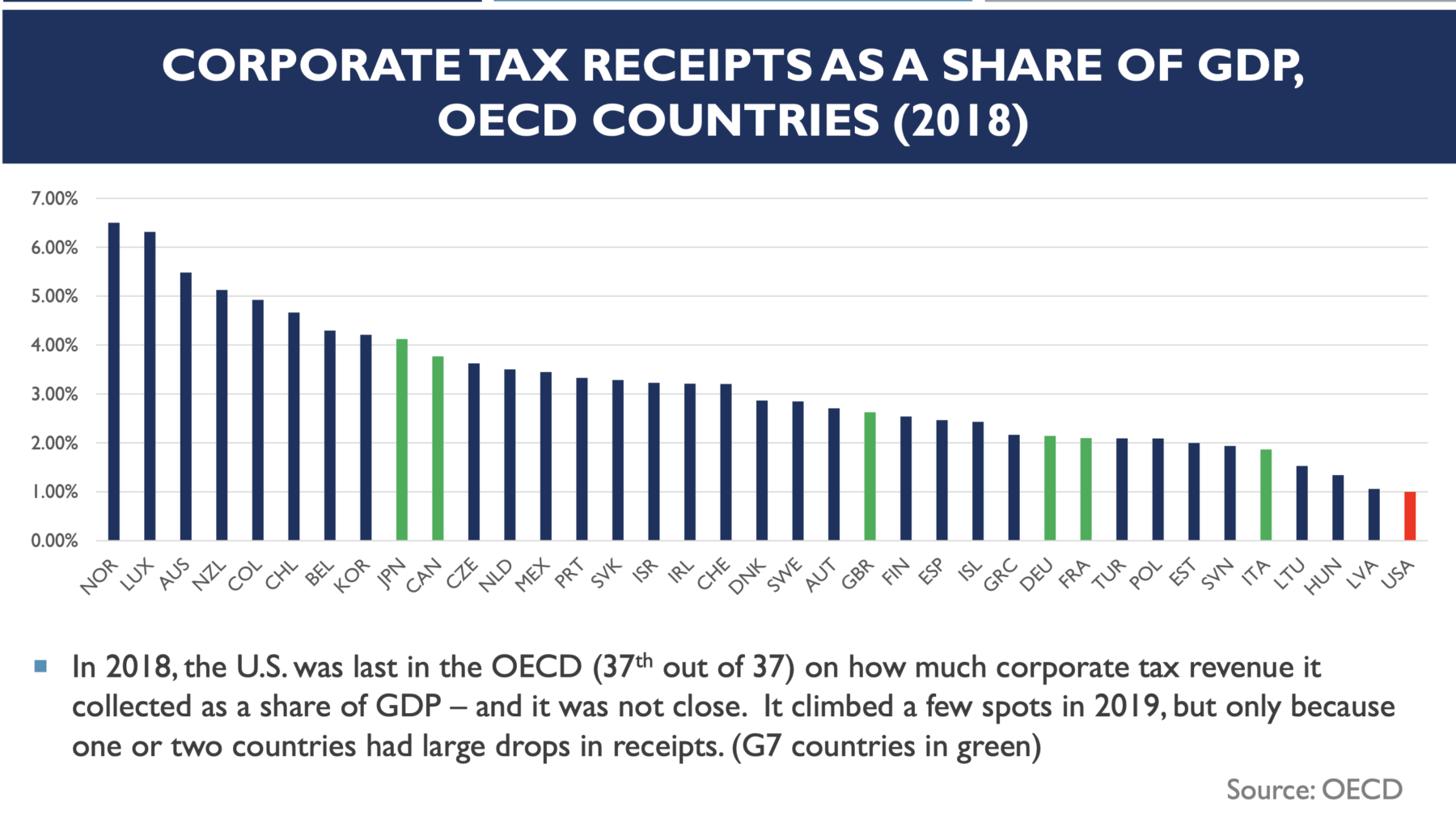 No doubt that's because low tax rates are equated with making companies more competitive since they are presumed to then have more money they can use to invest and grow, which is completely and utterly false. Corporations do not make investments based upon tax rates. They make investments based upon the possibility of profits.
If a large company sees an opportunity to raise or spend 2 billion dollars in order to enable a revenue stream of 4 billion dollars, the difference between the the 4 and 2 is only diminished by taxes, because the costs were already captured by the 2 billion dollars. This is true in general for all businesses, the costs enable the revenue, and the difference is profits. Minimizing costs is also separate from maximizing profits. The costs can only be whittled down to a point, because the viability of the business to maintain a revenue steam will be affected. If you force employees to do the work of five, the quality of the business becomes lowered, which affects competitiveness.
What a low tax policy actually does is enable extra profits.
---
Thursday, 15 April 2021 at

2h 40m 43s
Case in point
Thank you Al Franken.
A history lesson on the Rethuglicans antics as hand-maidens towards the strangling of democracy.
F&$%ing hypocrites.
---
Thursday, 15 April 2021 at

1h 43m 45s
I made a comment to an apologist for the Georgia Voter Suppression Laws
These people are allowed to have their framed arguments become "opinions" in National Newspapers.
Gabriel Sterling is the chief operation officer and chief financial officer in the office of the Georgia Secretary of State.
Click on the link and read the atrocious bit of verbal subterfuge that is the backbone of what the Washington Post calls "an opinion."
I and many others saw through this ruse of an honest argument as the pure bullshit that it represents. No. Not us. We aren't doing voter suppression by passing unnecessary laws because of false specious allegations that have no basis of fact or merit or legal standing in any court of law.
The duplicity of why this was necessary despite, as you admit, was not an election filled with fraud. Republicans love to exploit the margins of legalese, knowing full well that they can wax poetic about how their actions are not really what they really are. Yet the author cannot explain why any voter has to wait more than an hour, or why he accuses President Biden of not speaking truthfully because of the author's mischaracterization of the context of the words that are in the law. That's not a lie. Read the words in the bill.

The chutzpuh of talking about toning down the rhetoric by any Republican is just too much. Half of the tiny small less than 0.001% of those who are caught in voter fraud are Republican voters who knowingly did it. Most of the other half are ex-felons who didn't realize they did not have the right to vote.

All these laws worrying about 0.001% because of a North Carolina Republican strategist who explicitly researched how to marginalize 1 or 2 percent of Democratic voters so that Republican's could win elections.

Funny how the author doesn't mention that at all. Probably trying not to be political when he leaves out the history of Voter Suppression that uses these presumably "honorable" attempts to "protect" voting.

Convince the zombies if you must. Crocodiles pretend to stand above the fray while flossing their teeth knowing how the actual words of the law will give all the jackals the rope they need to strangle democracy.

And that's what this is. Stop pretending otherwise or just go away. Propaganda is not patriotic.
---