Sunday, 15 August 2021 at

23h 28m 11s
The most recent IPCC report
Yes, humans are causing Global Climate change and the rise in average Temperatures.
---
Sunday, 15 August 2021 at

5h 59m 39s
Rethuglican view of government
You get to make decisions for yourself rather than the government, and we get to run the government in the interests of our wealthy patrons.
---
Sunday, 15 August 2021 at

4h 6m 17s
The evil of cars
If you want the cars off the roads, you have to build the public transportation infrastructure -- like in Tokyo or Paris or even NYC. The issue of using cars or not using cars is not a morality issue. It is the result of a short term desire by the large auto manufacturers in the 1930's and 1940's. Instead of building and improving the train networks, we sold cars and built interstates, and also ripped up a lot of train tracks on the West Coast. This was a social policy decision that is now biting us badly. if we need a new policy, blaming and shaming people who drive cars and getting excited about making places "car-free" doesn't address the problem at all.
In San francisco we get bus lane improvements to shave maybe 5 minutes of transit time and tunnels from a basketball stadium to a tourist location that eats up a billion dollars and still is not completed. Cosmetic improvements. And then we get Republicans who filibuster everything and back-stabbing Democrats who whine about deficits or some manufactured issue their corporate backers want them to say. Squabbling while our democracy whittles away and the Earth's eco-system is fraying at the ends.
---
Thursday, 12 August 2021 at

3h 15m 44s
The Truth from ... Science
---
Saturday, 7 August 2021 at

23h 39m 49s
The Desalination option
Only 1% of the available water is actually drinkable.
---
Saturday, 7 August 2021 at

0h 21m 46s
Thought of the day.
We allow huge aggregations of wealth that makes superfluous investments like dead-end branches on the tree of economic evolution, instead of long-term, long-range economic investments. And instead, what are we discussing, what are we arguing about, what "vague mumbo jumbo that leaves you more confused" ?
Critical Race Theory and "Collective guilt" BS.
No teacher is teaching children to feel guilty about the color of their skin. This is nothing but a ruse used to divide and distract the lower classes so that the aristocracy can rule and dismantle the government of the people into a form that suits their own interests.
---
Friday, 6 August 2021 at

0h 26m 42s
They confuse us with false boundary lines
There is no left or right in politics. There are those who benefit from the authoritarian aristocratic tendency of societies, and everyone else. Some of the "everyone else" are manipulated by their ignorance and bias to not understand this, or they are just shills.
---
Monday, 2 August 2021 at

2h 21m 11s
The voicemails left for Mike Fanone
Deranged ? Delusional ? Belligerent? Insane ?
The DC capitol police officer Michael Fanone received a voicemail.
I wish they would have killed all you scumbags because you people are scum. Too bad they didn't beat the fuck out of you even more.
Deranged ? Delusional ? Belligerent? Insane ?
---
Monday, 2 August 2021 at

2h 15m 5s
The transition from a type 0 to a type 1 civilization
This is Michio Kaku. He is a Physicist.
---
Saturday, 24 July 2021 at

20h 26m 24s
Why are the current city garbage cans a problem ???
The city of San Francisco has a garbage can problem and is currently deciding on another roll-out of public garbage cans. The last round of city garbage cans occurred in the middle of the 1990's. The news media will likely implicate the city because the prototypes are $20,000 each, but the problem isn't a simple trope about high cost city infrastructure.
Here's a view from local KPIX CBS news:



As you can see from the above pictures, the current garbage cans are regularly invaded by homeless who pull out all the garbage and throw it on the street. To attempt a solution for this problem, the city attempted a contract with special wifi-connected garbage cans in the districts that are largely affected by the garbage issues (like the Tenderloin and SOMA) called "Bigbelly" that are service/subscription based ( $1,800 per year for each wifi-enabled garbage can).
But ... The Bigbelly cans are being removed from the Castro district

[SOURCE: hoodline | 5 May 2020]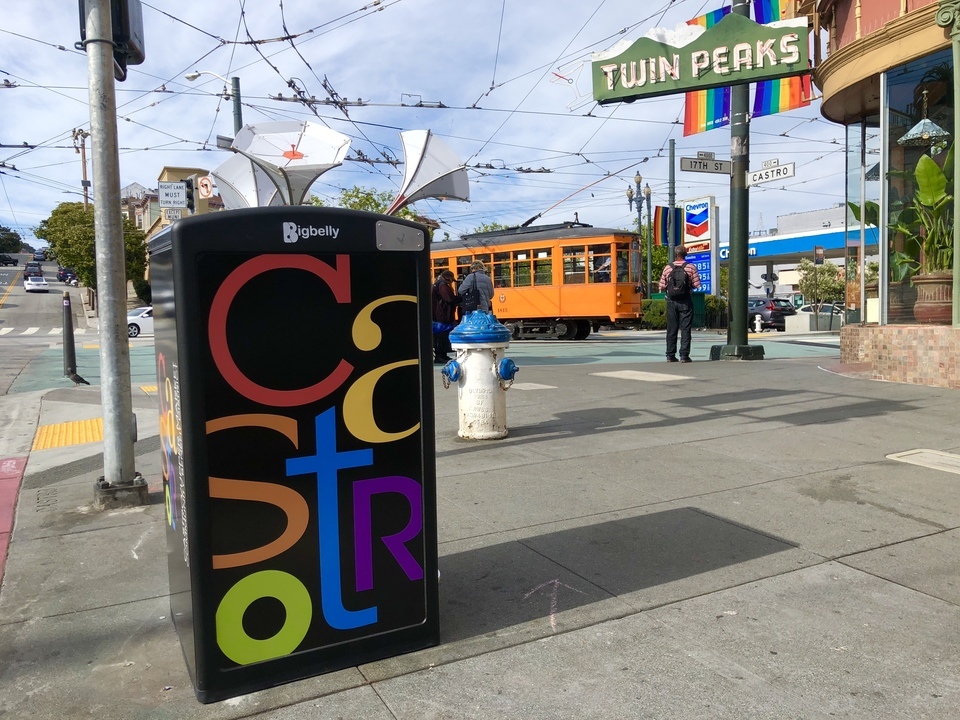 In fact, you should go do a google search on "sf city trash bigbelly" and read about the brief history of bigbelly wifi-connected garbage cans in the city of San Francisco.
So now the city is looking into buying cans that address the issue of garbage, wifi-connection, and manageable integration with the city waste/garbage collection system. The initial prototypes are expensive, but the goal is to choose the cans and then mass produce them, which city officials have said they expect to be less than $5000 per can.
---