Friday, 6 August 2021 at

0h 26m 42s
They confuse us with false boundary lines
There is no left or right in politics. There are those who benefit from the authoritarian aristocratic tendency of societies, and everyone else. Some of the "everyone else" are manipulated by their ignorance and bias to not understand this, or they are just shills.
---
Monday, 2 August 2021 at

2h 21m 11s
The voicemails left for Mike Fanone
Deranged ? Delusional ? Belligerent? Insane ?
The DC capitol police officer Michael Fanone received a voicemail.
I wish they would have killed all you scumbags because you people are scum. Too bad they didn't beat the fuck out of you even more.
Deranged ? Delusional ? Belligerent? Insane ?
---
Monday, 2 August 2021 at

2h 15m 5s
The transition from a type 0 to a type 1 civilization
This is Michio Kaku. He is a Physicist.
---
Saturday, 24 July 2021 at

20h 26m 24s
Why are the current city garbage cans a problem ???
The city of San Francisco has a garbage can problem and is currently deciding on another roll-out of public garbage cans. The last round of city garbage cans occurred in the middle of the 1990's. The news media will likely implicate the city because the prototypes are $20,000 each, but the problem isn't a simple trope about high cost city infrastructure.
Here's a view from local KPIX CBS news:



As you can see from the above pictures, the current garbage cans are regularly invaded by homeless who pull out all the garbage and throw it on the street. To attempt a solution for this problem, the city attempted a contract with special wifi-connected garbage cans in the districts that are largely affected by the garbage issues (like the Tenderloin and SOMA) called "Bigbelly" that are service/subscription based ( $1,800 per year for each wifi-enabled garbage can).
But ... The Bigbelly cans are being removed from the Castro district

[SOURCE: hoodline | 5 May 2020]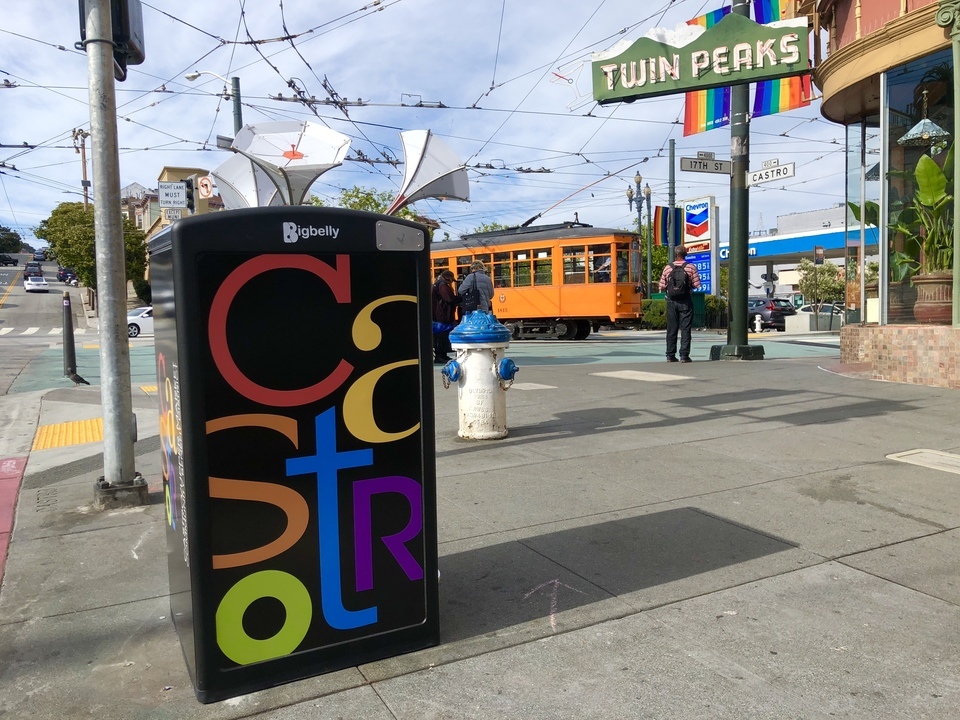 In fact, you should go do a google search on "sf city trash bigbelly" and read about the brief history of bigbelly wifi-connected garbage cans in the city of San Francisco.
So now the city is looking into buying cans that address the issue of garbage, wifi-connection, and manageable integration with the city waste/garbage collection system. The initial prototypes are expensive, but the goal is to choose the cans and then mass produce them, which city officials have said they expect to be less than $5000 per can.
---
Thursday, 22 July 2021 at

17h 34m 47s
The blackmail machine
Still alive and well ???
---
Thursday, 15 July 2021 at

20h 58m 4s
This ain't over yet
Florida is having another wave
The number of new cases statewide -- 23,697 -- was nearly double that of the previous week. That's the highest number of cases in one week since mid-May when the rate was dropping off the astronomical peaks hit in January. The 7.8% positivity rate of coronavirus tests in the week ending July 8 was also up significantly...

Jacksonville had 2,127 new cases in seven days and reported a 15.7% positivity rate on testing. Duval County has not seen more than 2,000 new COVID-19 in one week since February.
[SOURCE: Steve Patrick, Joy Purdy | news4jax.com | 10 July 2021]

The variant is starting a small wave out here in San Francisco too. The positivity rate was below 1% since March 2021. Today, 15 July 2021, the positivity rate just crosssed 2%.
[SOURCE: san francisco department of public health ]

The positivity rate is a proxy indicator on how the disease is spreading. The access of tests and the positive rate of those who seek access of tests are BOTH good indications of the spread -- since people who are sick or have been related to those who get sick are ALSO highly likely to be motivated to seek tests. When people are concerned about cost or are asymptomatic, that decreases the numbers of those who seek tests, however the increase in positivity of those who do seek tests is a correlative assessment, a proxy for how many cases are going undetected. 5% is the threshold that experts see for the sign of a need to do more testing. Having a track and trace system of testing in place eliminates this blind spot. Which is why an increase in the percentage of positive results out of those tested can be an indication of the increase in the viral spread.
In San Francisco, the seven day average of daily positive cases was between 11 and 14 from 1 June 2021 until 26 June 2021. The state and city loosened restrictions on 15 June 2021. On 27 June 2021, the 7 day average of daily positive cases became 15. Since then the average has been going up -- 20, 27, 34, 35, 42. We have high rates of vaccination and people who respect the need to wear masks, but ...
Fingers crossed.
---
Monday, 12 July 2021 at

19h 38m 23s
Advice from Blaise Pascal
When we wish to correct with advantage, and to show another that he errs, we must notice from what side he views the matter, for on that side it is usually true, and admit that truth to him, but reveal to him the side on which it is false. He is satisfied with that, for he sees that he was not mistaken, and that he only failed to see all sides. Now, no one is offended at not seeing everything; but one does not like to be mistaken, and that perhaps arises from the fact that man naturally cannot see everything, and that naturally he cannot err in the side he looks at, since the perceptions of our senses are always true.


People are generally better persuaded by the reasons which they have themselves discovered than by those which have come into the mind of others.
---
Friday, 2 July 2021 at

20h 53m 41s
But some people like to dream when they sleep
Ladies and Gentlemen, I present to you Matthew Cooke.
---
Monday, 21 June 2021 at

20h 20m 7s
Shooting from the hip
And telling the truth.
Private equity firms are buying huge swaths of houses and apartment complexes, then jacking the rents.
---
Friday, 14 May 2021 at

0h 33m 25s
No Shame No Integrity
Randi Rhodes is a national treasure. Air Force veteran of the United States.
Stop voting for Republicans.
---