Wednesday, 11 July 2007 at

23h 39m 24s
Mark Twain is worth listening too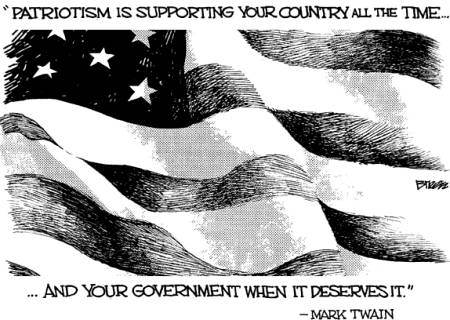 After all, he was alive when the Philip Randolph Hearst newspaper chain and Rockefeller oil company / New York Financial Kings sold the "splendid little war" and then virtually annexed the Philipines and Cuba for 50 years.
Maybe this is why General Petraeus and the neo-con "crazies" keep saying we'll be in Iraq for 50 years -- stealing the oil, of course.
---
Friday, 29 June 2007 at

2h 0m 59s
National health care now
Go here to read a the house bill, HR 676 that was put together by John Conyers.
God bless John Conyers. He is a true patriot.
---
Tuesday, 26 June 2007 at

0h 24m 43s
I couldn't have said it better myself
Political tags - such as royalist, communist, democrat, populist, fascist, liberal, conservative, and so forth - are never basic criteria. The human race divides politically into those who want people to be controlled and those who have no such desire -- Robert A. Heinlein
---
Tuesday, 12 June 2007 at

18h 0m 22s
Lest we forget about Afghanistan
From Time

KABUL, Afghanistan) — Afghan police mistakenly thought U.S. troops on a nighttime mission were Taliban fighters and opened fire on them, prompting U.S. forces to return fire and call in attack aircraft, killing seven Afghan police, officials said Tuesday.

U.S.-led coalition and Afghan troops, meanwhile, killed more than 24 suspected Taliban fighters during an eight-hour battle in southern Afghanistan on Monday, the coalition said.

The Taliban control all of Afghanistan except parts of Kabul, and 2 or 3 American bases in the North and Southwest. Ex-oil CEO puppet President Hamid Karzai is barely the mayor of Kabul. He rarely ventures out of the well guarded Presidential palace except for a few staged hours before the cameras. Recently mortar shells came within 300 feet of a heavily guarded outdoor speaking engagement.

Is this "fighting for freedom" or protecting the "freedom" to own the mineral extraction rights from other lands?
---
Tuesday, 12 June 2007 at

17h 51m 59s
Those friendly Sunni insurgents
From yahoo

BAGHDAD - Suspected Sunni insurgents bombed and badly damaged a span over the main north-south highway leading from Baghdad on Tuesday — the third bridge attack in as many days in an apparent campaign against key transportation arteries.

The attack occurred 35 miles south of Baghdad and just six miles south of a bridge brought down on Sunday by what was believed to be a suicide truck bomber. Three U.S. soldiers guarding that bridge were killed in Sunday's blast.

What do you expect when the Saudi's are funding the Sunni militias? Why would they love us when we are free-lance arresting and torturing all young males to intimidate the population? It's not about "getting information" because you NEVER get good information from torture. That's not the purpose of prison camps and secret torture rooms. You get information from spies and strategic infiltration. You torture and create prison camps to intimidation and control a population.
---
Thursday, 7 June 2007 at

12h 22m 56s
What is caging?
From thinkprogress.com
In 2004, BBC News published a report showing that Griffin led a "caging" scheme to suppress the votes of African-American servicemembers in Florida.
The skinny: they were sending letters to the addresses of black servicemembers, and when the letter came back returned (because the servicemembers were in Iraq) they removed the names from the voter registration roles.
Tim Griffin has also recently joined the Fred Thompson campaign. They are going to pretend he is not an ex-10 year lobbyist insider and make him into a mythological folksie talking point. Why else is the Fred Thompson campaign attracting all of the Rove minions in the arts of anti-democratic tactics?
---
Tuesday, 5 June 2007 at

0h 24m 51s
75,000 Cattle recalled
Because of e-coli contamination. And guess what, it is directly the result of feeding the cattle corn and using anti-biotics.
We have a food safety crisis on the horizon.

We made that crisis. We've built a system that produces unsafe food. Now we've got to figure out a way to fix it.
Click here to read more and learn.
Click here for a site that offers cool animation covering the various issues about meat.
And Click here for an excellent story by the christian science monitor about how corn production is causing monstrous health, livestock, and agricultural problems.
---
Tuesday, 5 June 2007 at

22h 45m 18s
The department of injustice and voter intimidation
This is Bradley Schlozman
Mr. Schlozman's pursuit of fake Missouri voter fraud cases 2 weeks before the election were so bad that Judge Nannett Laughrey threw it out of court.
On April 14, 2007, a federal judge ruled that a lawsuit pushed by Schlozman against the Missouri Secretary of State showed "no evidence" voter fraud. "It is also telling that the United States has not shown that any Missouri resident was denied his or her right to vote as a result of deficiencies alleged by the United States," Judge Nanette Laughrey wrote. "Nor has the United States shown that any voter fraud has occurred."
And how about that recent New York Times story that revealed scant evidence of the "voter fraud" pursued by the politicized Justice Department
WASHINGTON, April 11 — Five years after the Bush administration began a crackdown on voter fraud, the Justice Department has turned up virtually no evidence of any organized effort to skew federal elections, according to court records and interviews.
Here is a reprint of the article at Acorn.org.
That story was published on April 12th of this year. The day before, another story was published (on April 11th). It is an odd story.
WASHINGTON, April 10 — A federal panel responsible for conducting election research played down the findings of experts who concluded last year that there was little voter fraud around the nation, according to a review of the original report obtained by The New York Times.

Instead, the panel, the Election Assistance Commission, issued a report that said the pervasiveness of fraud was open to debate.

...

two weeks ago, the panel faced criticism for refusing to release another report it commissioned concerning voter identification laws. That report, which was released after intense pressure from Congress, found that voter identification laws designed to fight fraud can reduce turnout, particularly among members of minorities. In releasing that report, which was conducted by a different set of scholars, the commission declined to endorse its findings, citing methodological concerns.

A number of election law experts, based on their own research, have concluded that the accusations regarding widespread fraud are unjustified. And in this case, one of the two experts hired to do the report was Job Serebrov, a Republican elections lawyer from Arkansas, who defended his research in an e- mail message obtained by The Times that was sent last October to Margaret Sims, a commission staff member.

"Tova and I worked hard to produce a correct, accurate and truthful report," Mr. Serebrov wrote, referring to Tova Wang, a voting expert with liberal leanings from the Century Foundation and co-author of the report. "I could care less that the results are not what the more conservative members of my party wanted."

He added: "Neither one of us was willing to conform results for political expediency."

For contractual reasons, neither Ms. Wang nor Mr. Serebrov were at liberty to comment on their original report and the discrepancies with the final, edited version.

The original report on fraud cites "evidence of some continued outright intimidation and suppression" of voters by local officials, especially in some American Indian communities, while the final report says only that voter "intimidation is also a topic of some debate because there is little agreement concerning what constitutes actionable voter intimidation."

The original report said most experts believe that "false registration forms have not resulted in polling place fraud," but the final report cites "registration drives by nongovernmental groups as a source of fraud."
What is the April 11th story? It is story about a body of appointed political hacks who are trying to distract the public from the April 12th story. They hold a news conference where they "played down the findings of experts" without offering evidence, and contend that facts are somehow "open to debate" even though they don't offer any of their own to rebute those provided by the "findings of experts" in the soon to be released April 12th report.
Maybe 70 to 120 persons is the sum total of all the 5 years of hard work by the partisan Justice Department's witch hunting. The Republicans illegally removed 90,000 felons from Florida voting registration in 2000 because of loose association with a name from a felon list, despite 3 separate court orders to cease and desist. "Sproul & Associates has received nearly $500,000 from the Republican National Committee" to pose as a fake non-profit registration enterprise that threw away tens of thousands voters who registered Democratic. The Republicans illegally used "caging" tactics to remove tens of thousands of voters off the roles in 2004 and 2006.
---
Friday, 1 June 2007 at

21h 53m 8s
About those permanent Military Bases in Iraq
All 14 of them.
Click here and here
And here too.
So, if we are fighting them over there so we don't have to fight them here then are we also building military bases and prison camps over there so we don't have to build them here?
Oh, but we have to build and maintain 14 permanent military bases in Iraq because the world is dangerous, people are trying to kill us, and oceans no longer protect us.
Hmm. When as the world not been dangerous? It was dangerous in 200 B.C. It was dangerous in 1812 when the British invaded America and burned Washington D.C. Oceans didn't protect us in 1941 when the Japanese bombed Pearl Harbor. There are people all over the world who want to kill us, but invading and occupying a nation to prevent people from killing us will only increase the numbers of people who want to kill us.
------------
From cbs news [Click here ]
the $592 million embassy, expected to be completed in September on a chunk of prime real estate two-thirds the size of Washington's National Mall, will be a spacious and comfortable facility, albeit dangerous.

Identified as the "Baghdad U.S. Embassy Compound Master Plan," the images show palm lined paths and green grass gardens, volleyball and basketball courts outside the Marine post, as well as the swimming pool, all with a view of the river.

"In total, the 104-acre compound will include over twenty buildings, including one classified secure structure and housing for over 380 families," the website boasts.

It says the compound will include the embassy building, housing, a PX, commissary, cinema, retail and shopping areas, restaurants, schools, a fire station, power and water treatment plants as well as telecommunications and wastewater treatment facilities.

A U.S. Senate Foreign Relations Committee report last year said embassy security will be extraordinary: setbacks and perimeter no-go areas will be especially deep, structures reinforced to 2.5-times the standard, and five high- security entrances, plus an emergency entrance-exit.
---
Thursday, 31 May 2007 at

23h 57m 59s
Today's word is ....
sardoodledom (SAR-doo-duhl-duhm) noun
Plays having contrived melodramatic plot, concentrating excessively on the technique to the exclusion of characterization.
---