Saturday, 3 September 2016 at

1h 31m 21s
Quote of me
I was speaking with a younger girl I have known for maybe 5 years now. She is half my age and we have always gotten along, another of a plethora of platonic friendships I have had since I was 10 years old. She was telling me about her issues with men and relationships and with me being 47 and her being 23, the conversation was more of a mentor to a student than anything else. I see her as a little sister and genuinely care for her because I see a lot of goodness in her that she probably doesn't see in herself. A lot of young women carry this insecurity of their worthlessness when they come up and like we were talking about, it creates it's own feedback mechanism. You get the idea that you are unworthy and so you settle for those who are less worthy. You seek out that which you expect in order to confirm your own lowered expectations, and repeat.
Or as I told her before we parted ..
You buy the lie because the truth hurts.
---
Friday, 2 September 2016 at

6h 4m 2s
A Wow thought
Our perception of life is a dream of a dream in a dream where we actually exist.
---
Saturday, 20 August 2016 at

21h 22m 32s
Last Night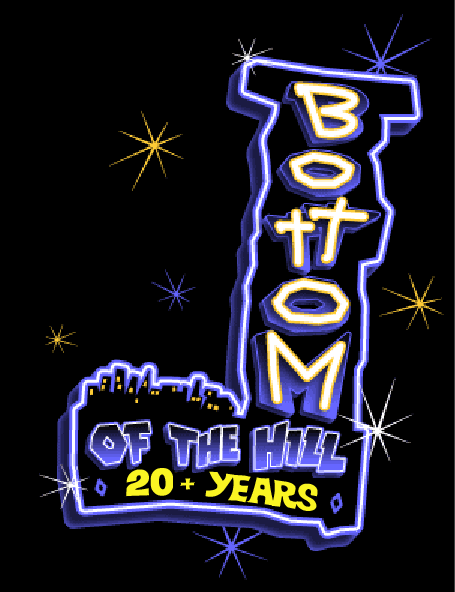 I regularly go to the Bottom of the Hill Club at 1233 17th St, San Francisco, CA 94107. It's my favorite club in the city with Ireland 32 being a close second. There was a band called Blackwülf that is really good in my opinion. There were 3 other bands but Blackwülf is the band I wanted to see. I bought a T-Shirt too.
However that is not why I am composing this essay. It was an interesting night mingling with various persons and I thought writing about the events would be either edifying, or at least worth the effort.
It all started when I parked my car on 17th after driving down 8th Street,driving around the circle where Townsend ends to what Google calls "Henry Adams" but what San Franciscan's probably call Kansas, because that's what the street was originally named until the city decided to pay homage to Henry Adams for 2 blocks. Is this because there is a huge non-profit warehouse one block over on Rhode Island Street called San Francisco Center for the Book which is about the "arts and craft" of making books?
| | |
| --- | --- |
| | |
No. Henry Adams is the son of John Adams who has his name attached to the City College Campus at 1860 Hayes Street (originally it was Lowell High School). Apparently Henry Adams was the Brains Behind the Design Center that is adjacent to the two blocks of the street name change. Another in a long line of scions from the famed Boston Adams family, Henry was instrumental in changing the industrial wasteland that existed between Market and Potrero Hill by buying up the property and changing the landscape. The area used to be the extension of an iron works complex in the early to mid 1900's called Union Iron Works. It was abandoned much like the Cattle stock yards of South Chicago were abandoned.
This building is called the Design Center
But I have to finish this later because I have some school work to do. There is more to the story. Lots more.
To be continued when I have more time.
---
Friday, 19 August 2016 at

1h 12m 9s
Latest Poem
I am going to a poetry reading tonight hosted by a long-term good friend named Rowan Chong. I owe it to him to remind me of my inner poet.
I wrote my first poem when I was in middle school to a Vietnamese girl named Ahn Nguyen. I wish I still had that poem. Funny thing about life is that many years later Ahn was the roommate to another girl named Rebecca Jehan who was the most significant other girlfriend in my life, and is the one girl who I will always love for the rest of my life -- even though I accept that I will never see her ever again.
Love has no ownership. It exists. It does not control.
Anyway, I wrote this poem yesterday. I call it "What the Fuck".
We walk the earth
master of our own personal universe
having tools at our disposal
that send us images of earthly weather patterns
instant messages from half way across the globe
26 words and 260 pages quicker than the post office and the publishing cycle.
It used to be a few months before other people had the chance to read your bullshit.
Now
not only do they get this trivia within a few seconds
but
they also respond a few seconds later
and so too all too many others whom you do not know
anonymous persons who project their monstrous id
playing ping pong on the internet table
but you don't see these players on the other side of a 6 foot table anymore
and these others
the outside world
are completely incongruous
intangible
untouchable
you have no fucking idea who these people are on the other side of the internet.
You read their words
You see their videos
but the human is imprisoned by the orifice of plastic or metal
and the electric waves and currents are alien signals
transporting power like blood corpuscles
except
they aren't biological
and we don't see them at all.
They happen by some unknowable magic
even though we think we know them
because we have an ideology called math
that balances equations
and minimizes the theories we call functions
because the planet has become an input into the machine of extraction
and the human slaves are fed on the conveyor belt of civilization
while the propaganda entertains them and speaks of progress like chewing on candy.

Which is why we are in this existential human crisis
wondering what exactly is this thing called "human existence".
What exactly is this life driving in metal boxes on concrete roads
going to and fro
from rectangular boxes where human forms hold small machines
and constantly look at them while they ignore everything else
having nothing to say to the people who are standing within 15 feet
not even realizing or caring or even curious
blank faces being fed by the ether while shackled to the artificial
thinking grandiose lies and tall tales as their minds are constantly being bombarded by kitsch
because that is the only way to survive when you are a grain of sand in the universe.

But is that all we are?
A grain of sand?
A tiny small infinitesimal cube of Silicon Dioxide floating in the wind of time?

---
Wednesday, 10 August 2016 at

2h 45m 51s
Gun control nuts
Gun extremists love to hug that 2nd amendment like their favorite teddy bear.
"A well regulated Militia, being necessary to the security of a free State, the right of the people to keep and bear Arms, shall not be infringed."
What do you think the first 4 words of that amendment means?

"A well regulated militia"
Militia that is well regulated, hmm... That means that you don't let average citizens easily buy assault weapons that can shoot 30 rounds in a few seconds. That means you don't get to own your personal anti-aircraft weapon -- because you never know, right? Those criminals and random elements might just come and land a plane on your acres of private property.
It's just a wedge issue that politicians use to lead the minions to vote against their own best interests because all they gotta do is throw up the "take your guns away" plus "Second Amendment" red herring, and presto magic you get all the bonafides of having any legitimacy.
Come on people. Read the entire amendment, not just the last 4 words.
---
Wednesday, 10 August 2016 at

2h 12m 34s
Just saying
I refuse to comment on anything about Donald Trump. Believe me I have plenty to say, but I intend to make a concerted effort to not allow political insanity to interfere with this blog, save for the historical moment and perhaps the interesting nugget of whatever.
---
Tuesday, 9 August 2016 at

2h 0m 10s
Projection is so sad really
Lindsay Lohan has always had a special place in my heart but it is a shame that she projects her own issues on the men she allows into her life.
"I realize now you can't stay in a relationship just for love," she told the Mail on Sunday in an interview she said she did because there have been "so many lies" printed about her recently. "No woman can be hit and stay with that person if that person isn't prepared to say sorry."
[SOURCE: Los Angeles Times | Christie D'Zurilla | 8 August 2016]

---
Monday, 8 August 2016 at

2h 21m 50s
Ichiro hits 3,000
Ichiro hits a triple for his 3,000th hit. Not to mention he already passed Peter Rose when you include his 9 years in Japan. He came over to the US as a Seattle Mariner when he was 27, and got 3,000 hits in 15 seasons, from 2001 to 2016.
Peter Rose got all uppity when there was some mention of Ichiro being the Hit's leader. In truth, Peter played until he was 45 years old, and collected 3464 hits from age 27 until 45. However, if you compare them from age 27 to age 42, Peter Rose got 3091 hits. Pete Rose was still playing 151 games at age 42, but he got 121 hits with a .245 average that year. He got 107 hits in 121 games at age 43.
Ichiro had 10 years of 200 hits. Peter only had 9 years. Imagine now if Ichiro had played in the United States for those first 9 years and you get some idea of how good Ichiro really is.
Ichiro Suzuki is da man, but Pete Rose also switch hit. Who is the best? Good question.
---
Monday, 8 August 2016 at

0h 16m 41s
Honestly
I could have fixed this blog earlier than I did, but I sort of went through an existential catharsis over the last 14 months. My life and my profession were overwhelming me. I didn't have the wherewithal to focus on being tuned into to the zeitgeist. I needed to evolve.
But here I am yet again. Ready to tap on this keyboard and share the ruminations of my brain for anyone who wants to listen.
---
Sunday, 7 August 2016 at

19h 26m 10s
Omg test post
I finally got my blog code upto date. The main issue was that my server changed the way they use databases, but there was also legacy php code that had to be cleared up on 3 separate files.
Sorry it took so long everyone. I know it's been 14 months, but right now it appears all systems are go.
---