Thursday, 16 April 2020 at

19h 0m 34s
To be (smart) or not to be (smart)
This week was the week the crazy showed up on various state legislature buildings and touted freedom with guns on their shoulders. Oh joy.
As Gov. Gretchen Whitmer of Michigan faces harsh criticism from Republicans for her stringent stay-at-home order, hundreds of protesters on Wednesday lined streets in Lansing, the state capital, with some chanting, "Recall Whitmer."

The protest, called "Operation Gridlock," was organized by the Michigan Conservative Coalition and the Michigan Freedom Fund, a DeVos family-linked conservative group. The Facebook event called on attendees to "TAKE ACTION IN LANSING" but "Not on foot — STAY in your VEHICLES!"

But many of the demonstrators, some waving Trump campaign flags, ignored the organizers' pleas and flooded the streets, according to NBC news. Protesters chanted, "Open up Michigan," and at one point erupted into a "Lock her up" refrain in reference to Whitmer

[SOURCE: Myad Ward | Politico | 15 April 2020]


A member of the President's cabinet is part of a plutocratic fund that sponsors and pays for political reactions against the opposition party. Hmm.

What happens when the workers who go back to work get sick, which disrupts the supply chain? Various processing plants across the country are already shutting down due to the contagion because hundreds of workers are getting sick at once. What will happen with foreign trade and airplane travel when other nations know the United States isn't controlling the spread of the virus? What will happen when we "open" the economy and small businesses go bankrupt because their customers aren't showing up because of the fear of the virus. You can't just wave a magic wand.

However, these Rethuglicans are all about manipulating the lower classes into righteous uprisings. All of them sponsored by an organization funded by wealthy donors to pay people to get on buses that bring them to state capitals so they can stand around holding signs (and guns) .

I really hope that none of these sad fools don't contract the virus. Despite their ignorance, this shit is for real, and I wouldn't wish this on anyone. The death rate you see is an under count. A lot of people are dying in their homes, or die from a heart attack or kidney failure. A better measure is to measure the current number of deaths against the average expected deaths over the last 5 years. When people do that, in Spain, England, and the Netherlands, they get anywhere between 37% and 57% of deaths being accounted for by the official COVID-19 deaths.

That's anywhere between a multiple of 2.7 and 1.75 more deaths than are being listed as official deaths due to COVID-19. So if we have officially 34,000 deaths, that means there is a high degree of probability that the actual number of deaths is in between 91,800 & 59,500.



First, the United Kingdom has released provisional data through the 14 week of the year – March 30 through April 5th. For England and Wales, the excess mortality over the five year average was 6,082 whereas the total COVID19 death toll was 3,475. In this case, the official toll accounts for only 57% of the recorded excess mortality. A bit higher than the rule of thumb but close. (Oddly the UK dataset refers to this as the week ending April 3rd, despite Week 14 ending on April 5th. Regardless, the numbers and percentages are the same whichever seven days are being counted.)

Second, the Netherlands' National Institute for Public Health and the Environment has produced this report which notes that excess mortality in the country from March 26th through April 1st was "approximately twice as high as the COVID-19 deaths reported to RIVM in the same week."

Third, I've previously noted some data from Spain. Here I noted data from Madrid in the second half of March, that was roughly double. But there's also data from March 10th-16th. In that case the 192 official COVID19 fatalities account for only 37% of the full excess mortality during the period (524). A comparable look at the Castilla la Mancha from March 15th-24th shows official COVID19 deaths accounting for 51% of the total excess mortality. (See this March 28th article in El Pais.)

Finally, The Economist notes more extensive data which L'Eco di Bergamo compiled of 82 localities in Bergamo province. In March, they logged a total excess mortality of 2,420 deaths of which only 1,140 were officially attributed to COVID19. Here the percentage captured is 47%.

These are different countries, different epidemics, different record keeping systems, all taking place in one of the most turbulent run of weeks since the Second World War. For all that chaos and variety, the consistency of this simple pattern is remarkable.
[SOURCE: Josh Marshall | TakingPointsMemo | 15 April 2020]

---
Thursday, 16 April 2020 at

17h 9m 19s
An example of how to educate the public
Here is the governor of New York, Andrew Cuomo, giving an example of leadership during a crisis. Educate the public. Be honest with the public.
I have disagreements with some of Mr. Cuomo's actions as governor in the past, BUT he is doing the nation a great service by providing these daily info sessions to a country that is starving for leadership.
---
Thursday, 16 April 2020 at

16h 48m 16s
The Bay Area cases are slowly decreasing
This comes from today's San Francisco Chronicle.
[SOURCE:  | SF Chronicle | ]

---
Wednesday, 15 April 2020 at

20h 31m 36s
The Deficit Myth
Professor Kelton is a Professor of Public Policy and Economics at Stony Brook University, and a senior economic adviser to Bernie Sanders' 2016 and 2020 presidential campaigns. Professor Kelton was recently listed by Bloomberg as "one of the 50 people who defined 2019". Professor Kelton is a proponent of MMT, Modern Monetary Theory - a concept that proposes government deficits, that avoid inflation, can help fight a myriad of problems including inequality, poverty and unemployment, climate change, housing, and health care.
---
Wednesday, 15 April 2020 at

13h 21m 38s
A COVID-19 Timeline
This is from Morgan Stanley.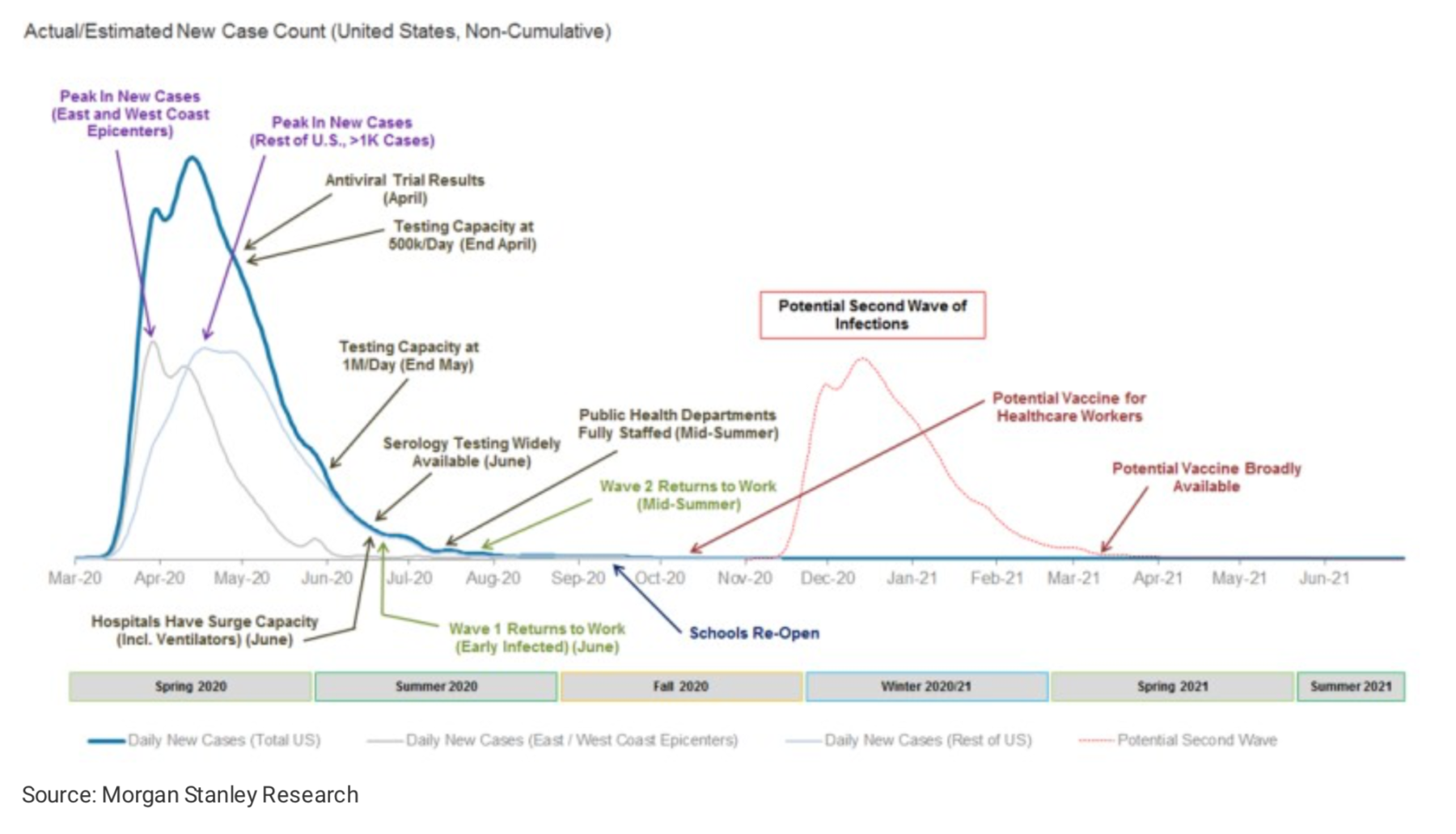 The managers of Trillions of dollar investment portfolio's tend to be somewhat conservative, but they are also not afflicted with "happy talk".
---
Tuesday, 14 April 2020 at

9h 4m 36s
Influenza 1918-1919
The great influenza epidemic occurred in 3 waves. The 2nd wave was the most deadly.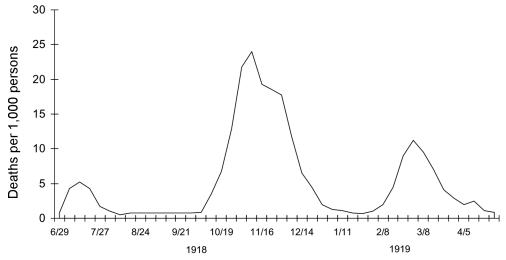 We are currently on the first wave.
[SOURCE:  | Centers for Disease Control and Prevention | ]

---
Tuesday, 14 April 2020 at

12h 2m 11s
Failure
Former Secretary of Labor Robert Reich provides a day-by-day account of Trump's failed response to the coronavirus crisis, and explains how the administration's incompetence and narcissism has cost countless lives.

"We pretty much shut it down."

"Coronavirus is very much under control."

"It's going to be down to close to zero."

Trump's priority has never been public health. It's been to downplay the virus in order to boost his shot at reelection.

This is not leadership. This is the exact opposite of leadership.
---
Monday, 13 April 2020 at

22h 14m 46s
This is why this shit pisses me off
Trump touts his "China" ban but can't answer a question about what his administration did during February. And that "China" ban was flimsy, only banning non-citizens, meanwhile infected citizens seeded the population and spread the disease everywhere. Not to mention those coming from Europe, and the cluster-fuck that was that travel ban 30 something days later.
They actually showed the press corps a campaign video that eulogized the President's leadership on the Coronavirus crisis, thinking this would settle the matter once in for all. Obviously pesky reporters who ask good questions and state facts are just fake news. Especially if they are black and/or female.
Because ... Reporters should just say nice things.
Trump seems to think saying something into a microphone is the equivalent of events. He instinctively lies to create an alternate universe and then erupts against the Reporters who point out the obvious.
You don't get to take a victory lap because you think your spin actually bullshits the population.
Even Fox News has to speak truth ... because the 10th Amendment.
And the Feds are still ... still ... stealing supplies to states.
---
Monday, 13 April 2020 at

20h 0m 10s
The US Food Supply Chain
As Americans line up by the thousands at food banks, farmers are dumping gallons of milk and smashing eggs. Wall Street Journal reporter Jesse Newman explains why America's food supply chain isn't built for the coronavirus era. Aired on 04/13/2020.
Basically all of the suppliers to restaurants and suppliers to stadiums and concerts and bars have either stalled or are non-existent, and making the transition to supplying grocers only is difficult -- in addition to being costly.
And there are other issues related to COVID-19. For example, a large pork processing plant in North Dakota had to shut down when 300 of the workers contracted Coronavirus.
You may not know about how the great plains states have become Concentrated Animal Feeding Operations (CAFO). We Californians have a little bit of this in the Salinas Valley. From Northern Texas, through Oklahoma, Kansas, Nebraska, Colorado, Wyoming, Montana and the Dakotas have some region or area where these operations are located. About 70 miles north of Denver, there is an area around Greeley, Colorado where the air smells and burns your eyes.
Here is what Tobin Abasi and the band Animals As Leaders has to say. The song is called "CAFO".
---
Sunday, 12 April 2020 at

12h 7m 38s
The New Economy
From Robert Reich, 1 April 2019.
---