Thursday, 15 July 2021 at

20h 58m 4s
This ain't over yet
Florida is having another wave
The number of new cases statewide -- 23,697 -- was nearly double that of the previous week. That's the highest number of cases in one week since mid-May when the rate was dropping off the astronomical peaks hit in January. The 7.8% positivity rate of coronavirus tests in the week ending July 8 was also up significantly...

Jacksonville had 2,127 new cases in seven days and reported a 15.7% positivity rate on testing. Duval County has not seen more than 2,000 new COVID-19 in one week since February.
[SOURCE: Steve Patrick, Joy Purdy | news4jax.com | 10 July 2021]

The variant is starting a small wave out here in San Francisco too. The positivity rate was below 1% since March 2021. Today, 15 July 2021, the positivity rate just crosssed 2%.
[SOURCE: san francisco department of public health ]

The positivity rate is a proxy indicator on how the disease is spreading. The access of tests and the positive rate of those who seek access of tests are BOTH good indications of the spread -- since people who are sick or have been related to those who get sick are ALSO highly likely to be motivated to seek tests. When people are concerned about cost or are asymptomatic, that decreases the numbers of those who seek tests, however the increase in positivity of those who do seek tests is a correlative assessment, a proxy for how many cases are going undetected. 5% is the threshold that experts see for the sign of a need to do more testing. Having a track and trace system of testing in place eliminates this blind spot. Which is why an increase in the percentage of positive results out of those tested can be an indication of the increase in the viral spread.
In San Francisco, the seven day average of daily positive cases was between 11 and 14 from 1 June 2021 until 26 June 2021. The state and city loosened restrictions on 15 June 2021. On 27 June 2021, the 7 day average of daily positive cases became 15. Since then the average has been going up -- 20, 27, 34, 35, 42. We have high rates of vaccination and people who respect the need to wear masks, but ...
Fingers crossed.
---
Monday, 12 July 2021 at

19h 38m 23s
Advice from Blaise Pascal
When we wish to correct with advantage, and to show another that he errs, we must notice from what side he views the matter, for on that side it is usually true, and admit that truth to him, but reveal to him the side on which it is false. He is satisfied with that, for he sees that he was not mistaken, and that he only failed to see all sides. Now, no one is offended at not seeing everything; but one does not like to be mistaken, and that perhaps arises from the fact that man naturally cannot see everything, and that naturally he cannot err in the side he looks at, since the perceptions of our senses are always true.


People are generally better persuaded by the reasons which they have themselves discovered than by those which have come into the mind of others.
---
Friday, 2 July 2021 at

20h 53m 41s
But some people like to dream when they sleep
Ladies and Gentlemen, I present to you Matthew Cooke.
---
Monday, 21 June 2021 at

20h 20m 7s
Shooting from the hip
And telling the truth.
Private equity firms are buying huge swaths of houses and apartment complexes, then jacking the rents.
---
Friday, 14 May 2021 at

0h 33m 25s
No Shame No Integrity
Randi Rhodes is a national treasure. Air Force veteran of the United States.
Stop voting for Republicans.
---
Saturday, 8 May 2021 at

0h 4m 38s
1501 posts
1501 posts.
I've been blogging since 2001. I have my moments where I am prolific, and moments when I check out.
I know that 1501 is not 2000, but 500 posts will happen at some point.
Will that be this year, or 2 years from now? More difficult truths have been analyzed by the best minds indeed.
:-)
---
Saturday, 8 May 2021 at

0h 2m 12s
Lies versus Truth
Bryan Tyler Cohen is a gem. Here he shows us how the Right wing media is all about creating nuanced controversy. Btw Biden's press secretary Jen Psaki is the fucking bomb. Girl don't take no shit, and casually makes your stupid bullshit look like stupid bullshit.
You go girl.
---
Saturday, 1 May 2021 at

1h 38m 25s
Yep it was/is that bad
---
Friday, 23 April 2021 at

22h 34m 45s
American Exceptionalism
The US corporate tax rate as a percentage of GDP is the lowest of all top 37 OECD nations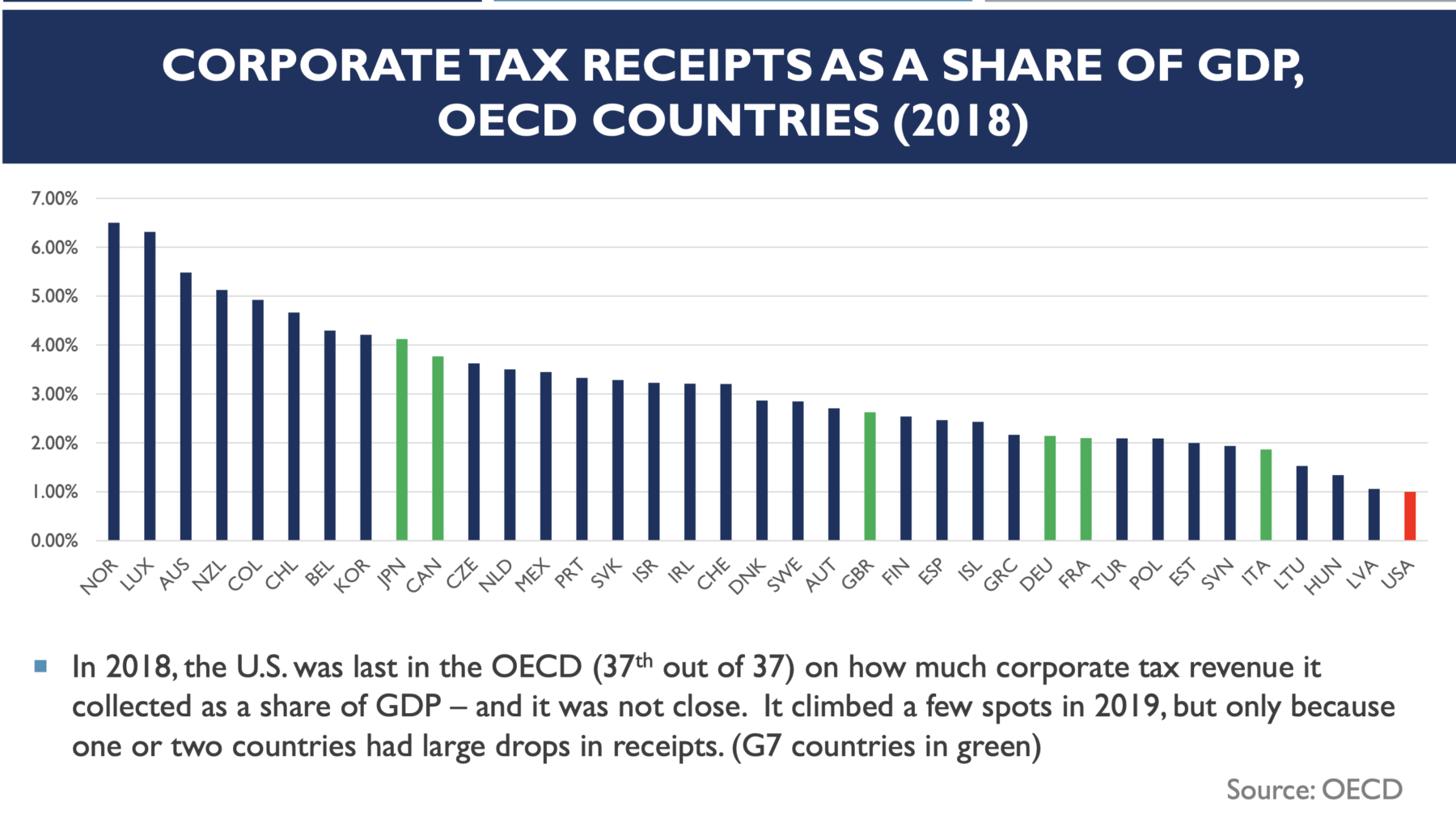 No doubt that's because low tax rates are equated with making companies more competitive since they are presumed to then have more money they can use to invest and grow, which is completely and utterly false. Corporations do not make investments based upon tax rates. They make investments based upon the possibility of profits.
If a large company sees an opportunity to raise or spend 2 billion dollars in order to enable a revenue stream of 4 billion dollars, the difference between the the 4 and 2 is only diminished by taxes, because the costs were already captured by the 2 billion dollars. This is true in general for all businesses, the costs enable the revenue, and the difference is profits. Minimizing costs is also separate from maximizing profits. The costs can only be whittled down to a point, because the viability of the business to maintain a revenue steam will be affected. If you force employees to do the work of five, the quality of the business becomes lowered, which affects competitiveness.
What a low tax policy actually does is enable extra profits.
---
Thursday, 15 April 2021 at

2h 40m 43s
Case in point
Thank you Al Franken.
A history lesson on the Rethuglicans antics as hand-maidens towards the strangling of democracy.
F&$%ing hypocrites.
---